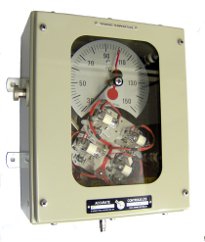 The Accurate Controls A275 is a extremely capable instrument suitable for a wide range of applications. It is especially suitable for non-stationary platforms such as oil production platforms, heavy shipping and other applications where the unit is likely to be subject to movement or transport.
The switch options include up to 4 heavy duty switches and can be specified for ATEX Zones.
Options:
Single or Dual Gradient Simulation
Remote milliamp output using our latest generation LVDT kit
ATEX ZONE suitable heavy duty microswitches
Anti condensation heater
EX Breather drain
The A275 can be supplied in a range of finishes up to and including a brushed 301 stainless steel 1.5mm enclosure. It is especially suited to maritime environments.
The glass as standard is laminated UV blocking safety glass.
As standard we now use stainless steel fixings on the outside of the case.